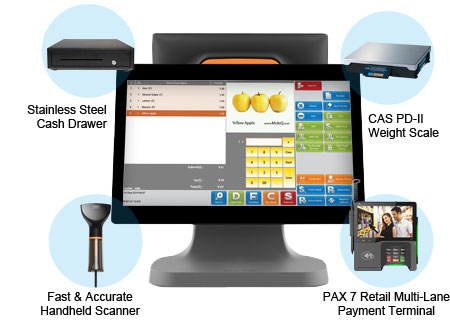 MG-POS is an Android platform POS (point of sale) solution for small retail businesses including: Bakeries, Card and Gift Shops, Convenience Stores, Flower Shops, Grocery Stores, and Yogurt Shops.
MG-POS features a rich point of sale solution that offers users a wide range of functions. Its flexible and modular design allows for customization and maximum efficiency.

Favorable Flip Chart

Preset Payment Options

Preset Functions

Mix & Match Discount

Back Office Task Driven

Cloud Report
MAIN FEATURES

POS REGISTER
Interfaces for scanning & scale items. Flexible & unlimited payment tenders.

FULL ITEM PROFILE
Service item, age verification, loyalty, and hash.

PRICING & DEALS
Global Price Changes, Split Pricing, Package Pricing, Limited Sales Quantity, and Multi Discount & Coupon.

USER SETTING
Setting of operation permissions for different users.

MEMBER SETTING
Member discounts & promotions, Multiple price levels, and Layaway functionality.

INVENTORY CONTROL
Easy inventory control. Receiving by weight or quantity, and case breakouts functionality.

REPORTING
Variable range reporting. Single and consolidated reporting.

CLOUD REPORTS
MG-POS cloud sales report. Manage your business anywhere.